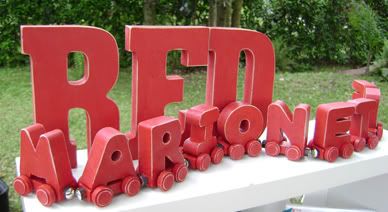 I wanted a logo that was not just a flat surface. I created the Red Marionette Logo out of "train" blocks and big red letter blocks, painted red then sanded for the "Old Toybox" look. Someone even wanted to buy the logo!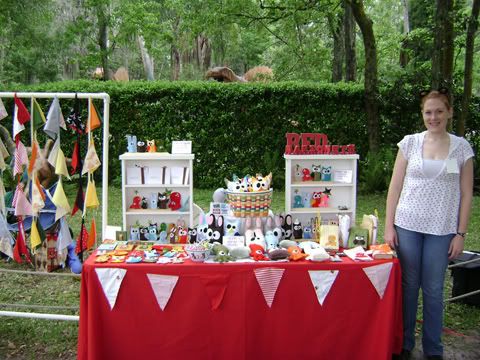 Here is the entire booth layout. The day was rather warm - we all kind of wilted by midday - but it wasn't rainy and we were in the shade!!
I still am looking for a more creative way to display the pennants.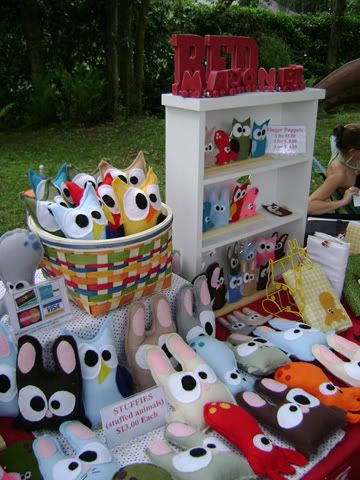 Closeup of some of the product. A darling little boys face lit up when he saw the Red Octopus - he had to have it!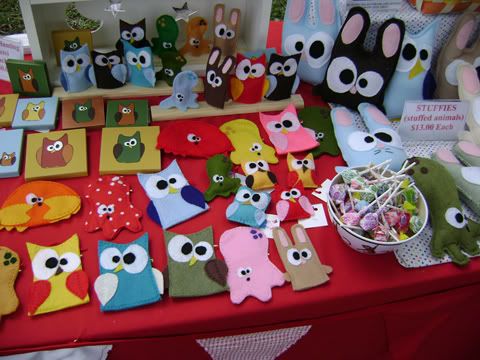 The Candy Dish was rather popular. Gift Card Holders I find need to be explained a little more than I thought. They can also be used as a little creative way to give a child money, keep their "precious items" in like stones or coins, etc.
Also - not many people realized the finger puppets are large enough to use as wine bottle toppers. When you give a bottle of wine at a party instead of a gift bag - pop one of my creatures on to the top and see the expressions on their faces.
Overall the day was great! I learned a lot - I took way more than I needed in various doodads and "in case" stuff. I was excited about getting to use my knucklebuster and propay account but no one purchased anything with a credit card - which was okay too!
I had two great neighbors Moll Doll and Avenue Handmade - It was brilliant being able to talk with them as we shared the day. They both have lovely stuff! Please check them out on etsy!
Thank you all for coming out!